Interview with Sgt Zach Scoular, USMC. 
Warrior: The joke has been said that when a Jewish mom hears the word "marine," she immediately thinks "biologist." Tell us what brought you to the Corps.
Scoular: LOL! There is certainly some validity to that statement. For me, I feel it has always been my vocation to be a United States Marine. There were no other options nor opportunities I desired to pursue. The earliest memory I have is going to a military museum with my grandfather at 4 years old. It was instilled into my soul at such an early age. I knew there was nothing else out there for me, and I enlisted as soon as I could at age seventeen. 
Warrior: Give us an overview on your career.
Scoular: I graduated from high school in late June 2015 and was in Parris Island, South Carolina for Recruit Training six days later. After a few follow-on schools I found myself with VMGR-252 (C130 Squadron in Cherry Point, NC.) in April of 2016. In July of that year I went on to serve on the Special Purpose Marine Air- Ground Task Force-Crisis Response-Africa 16.2. After  returning to the US in 2017, I reported to Marine Corps Embassy Security Group and graduated with class 4-17 to become a Marine Security Guard Watchstander. While on the MSG program I have been posted at the American Embassies in: Ashgabat, Turkmenistan; Niamey, Niger; and Valletta, Malta.
Warrior: How have you maintained your Jewish identity as a Jew in your position, both as an enlisted Marine, as well as being an embassy guard in far-flung areas across the globe?
Scoular: I have always maintained my identity as a Jew . It's important to know where we come from. We must preserve our heritage and our way of life because there are so FEW of us. The world population of Jews is just 0.2% and in terms of total population, we have not yet recovered from the devastation of the Holocaust. While I was posted in two Islamic dominant countries for two years (Turkmenistan and Niger) it was difficult not having any type of Jewish community in person. Thankfully, we live in a world where resources and communities are available online and I relied on it as much as I could.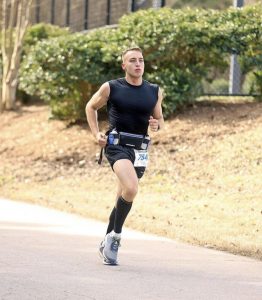 Warrior: Last year, you ran a marathon to bring awareness to anti-Semitism. Tell us about what led to that, and how that experience was (including your run-time).
Scoular: The synagogue shooting in Pittsburgh last year prompted me to do something for our community. With anti-semitism on the rise, I decided I would run my first two marathons in a five-day span to raise awareness and funds for the local synagogue my grandparents attend in Cary, North Carolina. At the time, Cary had multiple anti-semitic incidents within a few months, and the presence of an armed officer was required for Shabbat services. I felt compelled to do something about it. We got the local news involved, and word spread around town quickly. With the $3000+ we raised, the synagogue hired a soldier from Israel to do multiple public speaking events about the dangers of anti-semitism to raise awareness. I ended up having good races, including a 9th place overall (1st for age group) finish in the second one with a time of 3:23:28.
Warrior: This year, you're running a marathon to fight cancer, in honor of your grandfather. Tell us a little about him, and of his diagnosis, and what that's meant to you.
Scoular: My grandfather is a Jewish man through and through! Morton Berkowitz was born and raised in the Bronx and has been a devoted Jew his whole life. He served in the Army National Guard in the late 1950s and into the early 1960s. He then worked for the federal government and helped run Medicare for Health and Human services. In the 1980s he hosted a weekly radio show. Certainly an interesting man! Last year he was diagnosed with AML; It's a rare type of Leukemia. Thousands of people are affected by cancer every year and it seems to be a part of everyday life. I want to do my part in helping put an end to cancer. After speaking with my grandfather, I decided to run a thirty-four-mile ultra-marathon to raise money for  the Leukemia and Lymphoma Society. They're an amazing non-profit organization dedicated to putting an end to cancer. This means a lot to me not only because my family and I are directly affected by it, but because maybe the funds we raise will go a long way in finding a cure , preventing others from contracting this horrible disease.
Warrior: Is this marathon-a-year, fighting the world's evils one marathon at a time, turning into a trend for you?
Scoular: I want to help people and make the world a better place as much as I can. It's not about awards, it's not about notoriety, it's not about money, it's strictly about giving back one small act at a time with the hope that others will follow suit. I could do fundraisers without racing, but I do not believe they would be as effective and wouldn't captivate people the same way. When people see I'm willing to put myself in extremely uncomfortable situations for a good cause, I think it resonates with them.
Warrior: Where do you see your career going from here? 
Scoular: I love the Marine Corps and everything it stands for. I would like to stay in as long as possible and hopefully become a Sergeant Major one day.
Warrior: What's your NCO advice to young Jewish marines?
Scoular: Never waver from who you are. Be proud of yourself, your heritage, and your religion. Take a stand against all racism and  prejudice, not just anti-semitism. Always remember you have unlimited support and resources. Don't be afraid to reach out or talk to your leaders if you need help. Mentor, teach, and assist others in need of help, leaders and subordinates alike.
Warrior: And what would you tell Navy chaplains attached to a Marine unit – what would be the best way for them to have an impact on their Marines?
Scoular: From my experience, Marines are impacted by generosity. Take the time to get to know them on a personal and professional level. Show deep interest in their passions and upkeep in their careers. I have had amazing experiences with chaplains. They are individuals who truly put others before themselves and it does not go unnoticed. Service members need to know their Chaplain has got their six.
Warrior: Sgt. Scoular, thanks for taking the time to talk to us, and good luck on the fundraising and all your future marathons! 
Originally printed in the Chanukah 2020 issue of the Jewish American Warrior.