Adam Reinherz, journalist for the Pittsburgh Jewish Chronicle.
Chaplain (COL) Sanford Dresin is looking for a few good rabbis.
The retired Army chaplain and current director of military programs for The Aleph Institute is coming to Pittsburgh this weekend hoping to inspire the next generation of patriots.
Throughout the weekend beginning March 18, Dresin is speaking at Congregation Poale Zedeck, Congregation Keser Torah, the Lubavitch Center, Young Israel of Pittsburgh and Shaare Torah Congregation.
Chaplain (CPT) Elisar Admon, a Squirrel Hill-based rabbi, organized Dresin's visit and said the weekend should provide an opportunity for "everybody to hear about Rabbi Dresin's experiences and how he touched so many lives." 
Dresin spent nearly 27 years as an active-duty Army chaplain. In 1967, he joined the Army at age 24. Despite his readiness to serve during "the height of the Vietnam War," his sentiment toward the war was "gray," he said.
"There were a lot of people, Jews and Christians alike, who were avoiding the draft," he said. "I wasn't a draft dodger."
Dresin spent his first two years of military service on an Army base in Maryland. He then went to Vietnam, where there were about 500,000 American troops — 5,000 of which were Jewish, he said.
"They needed a rabbi," he said, and to reach them, he would "get a helicopter and fly out to different bases."
In Vietnam, as in subsequent stops in Korea, Europe and across the U.S., Dresin offered comfort and Jewish teachings. He had received ordination from Yeshivas Chasam Sofer in Brooklyn and shared the lessons of the Torah, Talmud and rabbinic literature along his travels. In the process, Dresin often found himself in historic settings. On the eve of the Berlin Wall collapsing, Dresin was serving in Germany. Dresin and his teenage son entered East Berlin, "because we had military access," he recalled.
They went to a hardware store, where they bought a hammer and were "among the first people to chip away at the Berlin Wall."
Dresin said his son kept some of the original graffitied wall and gave some away as Chanukah presents.
Years later, after retiring from active duty and while serving as a congregational rabbi in Wilmington, Delaware, Dresin found himself welcoming then-Sen. Joe Biden to services.
"To some degree, I was the POTUS' rabbi," Dresin jokingly remarked. "He would stop by quite often when he was campaigning or if there was an issue affecting the Jewish community."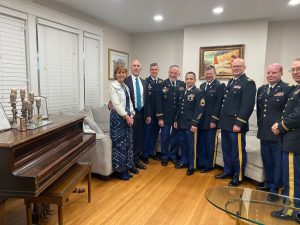 Along with his duties at The Aleph Institute, where he endorses rabbis for future military chaplaincy work, Dresin still serves as the civilian rabbi of the Pentagon and manages Jewish services there.
Dresin reflected that his career has been "very meaningful and worthwhile." His nearly three decades of active duty enabled him to oversee many chaplains stationed worldwide, as well as undertake multiple assignments, including Chaplain 2nd Infantry Division, Korea; Chief of Chaplains, 7th Medical Command, Europe; and, Chief of the Department of Ministry, Walter Reed Army Medical Center.
Dresin received four graduate degrees along the way, as well as military awards and decorations, including the Legion of Merit with one oak-leaf cluster; the Bronze Star with one oak-leaf cluster; and, the Meritorious Service Medal with four oak-leaf clusters. 
Dresin said he plans on sharing several stories during his upcoming Pittsburgh stay. He hopes his words inspire early-stage rabbis to follow similar paths to the military, as it's helped him develop various skills including organizational, homiletical and counseling. 
Admon, an Army chaplain, said that Dresin's talents have helped countless soldiers and their families over the years.
"This is something unique that not a lot of people can do," Admon said. "It's amazing to know that people like him exist in the world."
Rabbi Shimon Silver of Young Israel of Pittsburgh said he's looking forward to Dresin's visit, not only to hear about Dresin's travels, but also to learn how he infused rabbinic wisdom into his work.
Rabbi Moishe Mayir Vogel, executive director of The Aleph Institute – N.E. Regional Headquarters, oversees prison chaplaincy in the region. Although military chaplaincy and prison chaplaincy are "two different areas," Vogel said, both are rooted in providing spiritual care to others.
Vogel said he was particularly impressed with Dresin's rank and work with government officials, and that he has tried to spread the word of Dresin's visit because "he is someone we can all learn from." 
This article was originally published in the Pittsburgh Jewish Chronicle in March 2022.